24 Jul 2012
The good: The HTC One V is affordable, compact, and elegant, and runs Android 4.0 and Sense 4. It has a nimble camera and colorful screen.
The bad: A slow processor and pokey 3G data hold the One V back.
The bottom line: The HTC One V's premium design is fashionable but demanding Android fans should steer clear of this phone's poor performance.

Small, compact smartphones are becoming a rare sight on carrier shelves these days. Indeed, much of today's cellular buzz centers around big-screened mobile machines such as Samsung's ubiquitous Galaxy S III, the HTC One X, or its Sprint variant, the HTC Evo 4G LTE. Yet there's still a place for phones of tiny stature, especially if they're well-crafted like HTC's One V. Sculpted from one piece of aluminum and shamelessly sporting a curved chin, this handset surely will turn heads. The $129.99 HTC One V for U.S. Cellular isn't outrageously priced, either, but it is saddled by a weak processor and slow 3G data.
Design
Part of HTC's past success has stemmed from having the courage to craft phones with daring designs. A classic example was the HTC Legend, which was carved from a single block of aluminum. The HTC One V furthers the Legend's high-class looks by flaunting its unibody aluminum chassis.

Colored in a silvery champagne gray, the One V's metal surface is matte, possessing an almost almost sandpaperlike roughness. Like its big brother the HTC One S, the handset's texture absorbs moisture, repels fingerprints, and provides a sure grip.

The HTC One V takes another design element from the Legend playbook, a distinctive curved chin at the base of the phone. Love it or hate it, the One V's sloping bottom edge helps it stand out in a world filled with basic flat slabs.

With softly rounded edges and compact size, the One V's small stature also makes it an oddity. Compared with the massive 4.7- and 4.8-inch-screened monsters now flooding the market, the HTC One V's 3.7-inch, 800x480-pixel-resolution LCD screen feels practically lilliputian.

Despite its minute size, the display produces accurate colors and wide viewing angles. It doesn't get as bright or render images as sharply as the HTC One X. That said, the One V's screen doesn't oversaturate and distort colors like the Samsung Galaxy S Aviator's 4.3-inch Super AMOLED (800x400) display.

Measuring 4.74 inches tall by 2.35 inches wide by 0.36 inch thick, this device is tiny enough to use one-handed and slide into pockets without drama. It's been a long time since I could say that about any new Android phone save the HTC Droid Incredible 4G LTE. At a hair over 4 ounces, the One V shouldn't weigh you down either.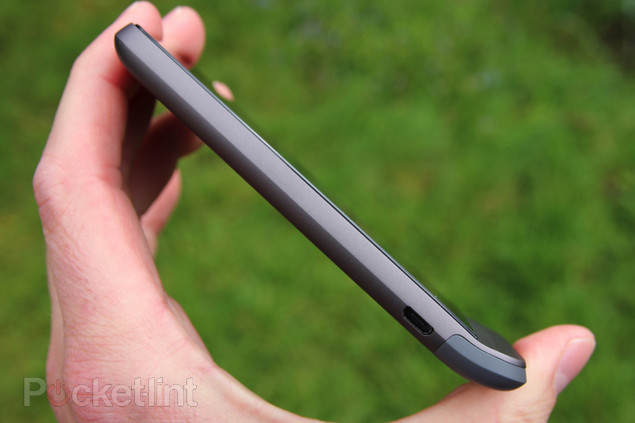 HTC keeps the One V's ports and buttons to a minimum. On top you'll find a power key and 3.5mm headphone jack. The right side houses a long, thin volume rocker while the handset's left side contains a Micro-USB port. Three capacitive buttons for back, home, and recent programs sit below the screen. Keep in mind the phone lacks a front-facing camera for video chats.
Features
As the lowest phone in HTC's One series lineup, the HTC One V doesn't come equipped with the same powerful components that grace the One X and One S. Even so, the handset runs the same modern software, including Android 4.0 Ice Cream Sandwich and HTC's Sense 4 user interface layered over it.

Designed to be less intrusive than previous Sense versions, Sense 4 skips many of the fancy graphics effects, such as the perpetually spinning 3D carousel of home screens and in-your-face weather graphics.

To unlock the phone either flick a virtual ring from the bottom of the screen to the center, or drag icons into the ring to quick-launch major phone functions. Pulling the camera symbol inside the ring for example powers up the One V's imaging system to snap pictures and shoot video without navigating through menus. Other lock-screen shortcuts include the Web browser, text messaging, and phone dialer.

As on the HTC One S, and HTC One X, you have seven home screens to choose from, each ready to populate with app shortcuts and animated widgets. You'll find HTC's classic weather clock front and center on the main screen. One difference though is that tapping the widget's digital readout launches a world clock that lists capital city times in basic text, not the slick 3D globe visual found on the One X and One S.

Hitting the weather portion of the clock does pull up a detailed forecast but the One V lacks the graphics-heavy weather wallpaper that the One X and One S have as an option. On those phones it displays animations in the background and on the lock screen corresponding to current atmospheric conditions.

The bottom of each home screen contains a tab with the same four quick-launch icons shown on the lock screen. I definitely appreciate being able to swap these icons for others or even create and add folders holding multiple app icons. Changes made here are also reflected on the lock screen and placing application shortcuts on top of one another creates a folder.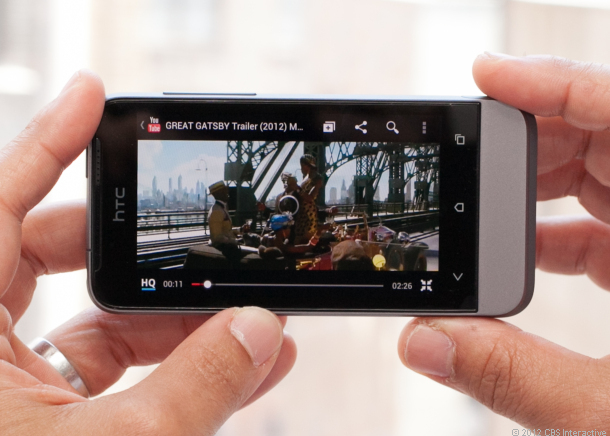 Sense enhances the browser too, with a Pure Content Reader view that removes ads and displays only the text of a selected Web page. You can also select pages and video to bookmark for later enjoyment offline.